How to create groups
To create a custom group with limited access to the Exivity Glass user interface, follow this procedure: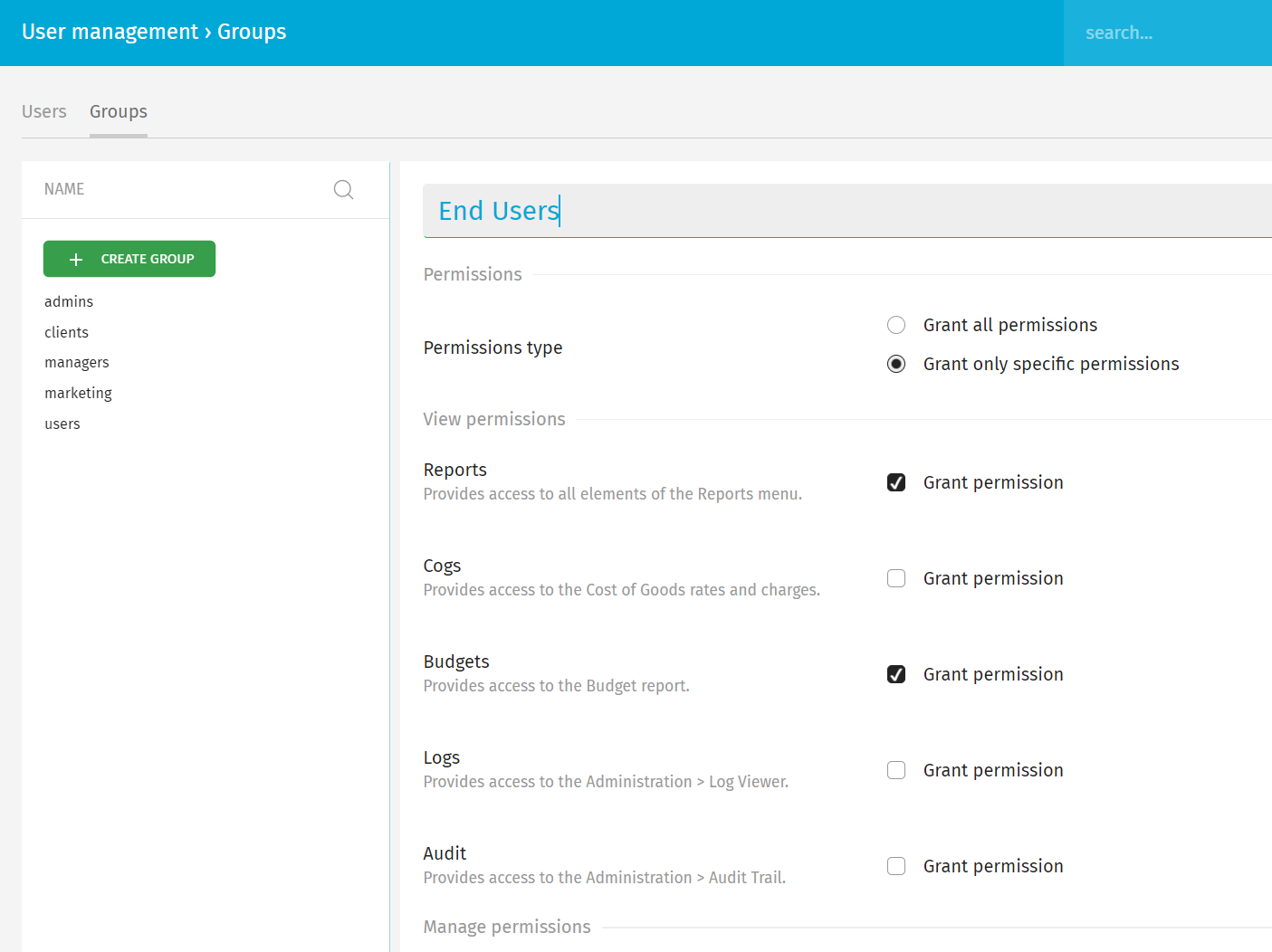 Go to User management under the administration dropdown located at the top right of the screen and select the Groups tab
Click Create group and provide a meaningful Name for this Group
Select one or multiple permissions from the custom list of Role Names below
When you're done with your selection, click the Save button to create your group. Now you can create Users and associate them to this group.
User permissions​
Two types of permissions can be associated with a group: View and Manage.
These are the View permissions:
| View Permissions | Description |
| --- | --- |
| Reports | Provides access to all elements of the Reports menu |
| Cogs | Enabling this option provides access to the Cost of Goods rates and charges |
| Budgets | Provides access to the Budget report. |
| Logs | Provides access to the Administration > Log Viewer. |
| Audit | Provides access to the Administration > Audit Trial. |
These are the Manage permissions:
| Manage Permissions | Description |
| --- | --- |
| Reports | Allows the creation and deletion of Reports |
| Accounts | Provides access to the Accounts menu section and provides the ability to create, edit and delete Metadata. |
| Services | Enables read and write access to the entire services menu. This includes adding and changing Rates and Adjustments. |
| Data sources | Allows to create, edit and delete Extractors and Transformers. |
| Users | Allow group to add, remove or edit users. |
| Settings | Allows editing of all elements in the Administration > Settings menu. |
| Workflows | Allows the creating and updating of Workflows. |
| Files | Allows to upload usage and lookup data through the Exivity API. |
| Dsets | Provides access to Data Pipelines > Datasets. |
| Metadata definitions | Allows the creating and updating of Metadata definitions. |