Notifications
Notifications are messages that are sent to a specific channel (e-mail, SMS, Slack, webhook) based on an event such as a Published Report, a Budget Evaluation, or a Workflow exit status. These events are typically triggered by a Workflow. Notifications are always created for a specific user. It is possible to create a notification for your own account and, if you have admin rights, for another user.
View My Notifications​
You can view the notifications in your profile via the user icon in the top right corner:
Channels​
If you don't have any notifications yet, you will first need to create one or more channels. To create a new Channel, click on the tab Channels and specify a name and a type. In case of an e-mail, you will need to provide a valid e-mail address or use your personal profile e-mail address: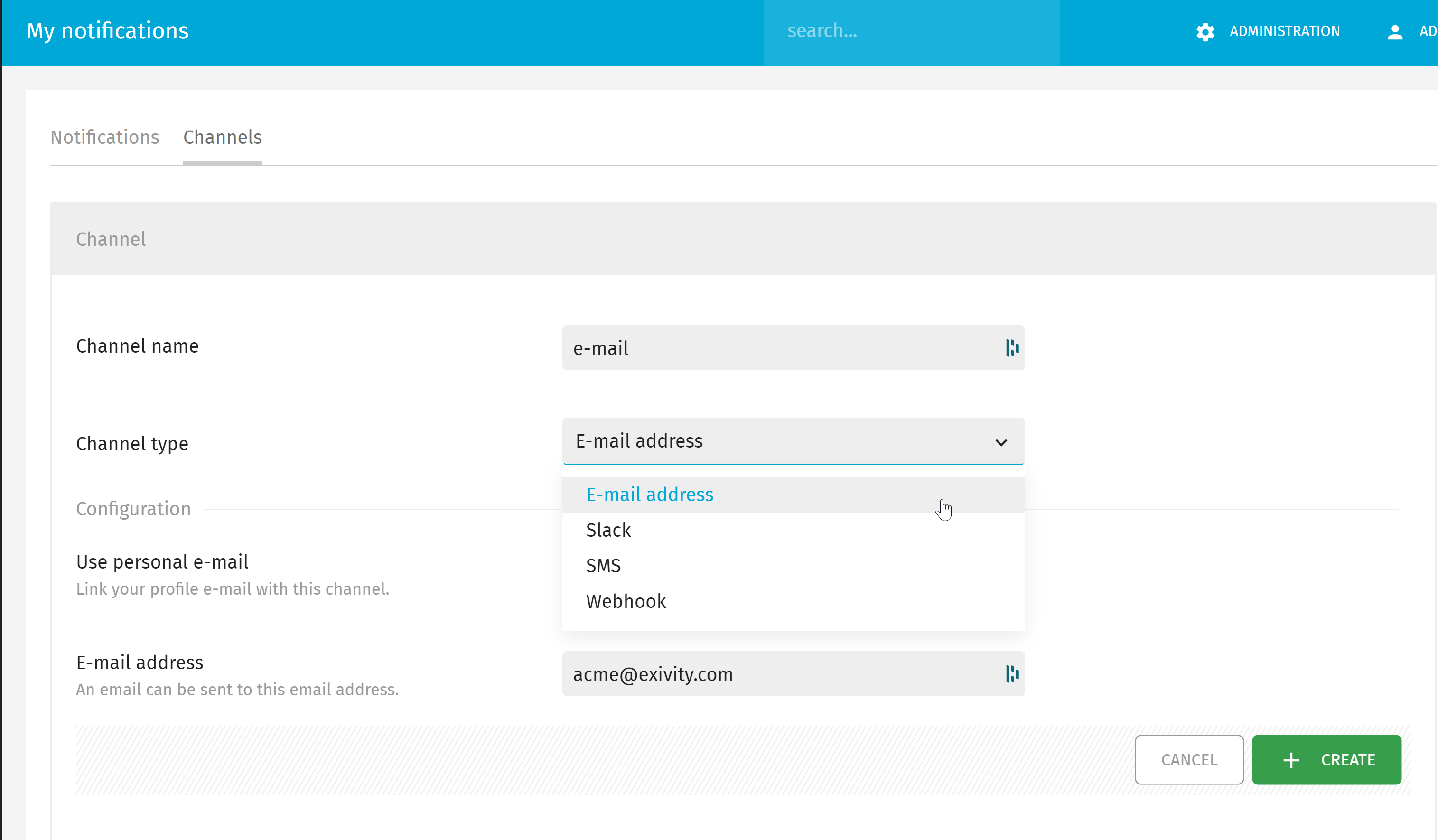 Make sure a valid e-mail configuration has been configured in the System Settings of your Exivity instance.
Creating Notifications for yourself​
To create a notification, click on your username at the top right corner of the screen, then select My Notifications and navigate to the Notifications tab:
Depending on the selected Trigger, different options will be provided. The three types of triggers available allow you to know when a Report has been published, when a Budget has been evaluated, or when a Workflow has finished:

Creating Notifications for other users​
info
In order to create notifications for other users, you must be logged in as an administrator.
Afterwards, you can proceed with the following steps:
Go to Administration > User management.
Select an existing user or create a new one by clicking the Create User button.
info
Note that notifications for any new user become available only after saving the profile.
Select the desired user from the left side of the screen.

Select the Notifications tab and fill in the details, similarly to the way you create a notification for yourself :
Finally, you can view the notifications associated with a specific user, under Administration > User management > username > Notifications: